Arab Studies Institute
Washington DC - Beirut
T 703-688-2745
Events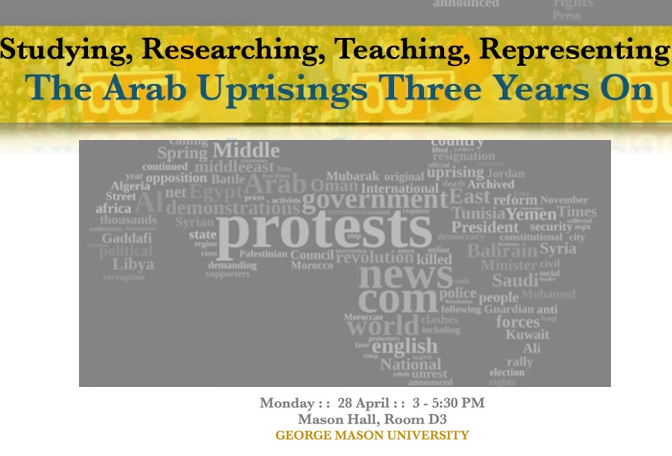 Studying, Researching, Teaching, Representing: The Arab Uprisings Three Years On

By Lisa Hajjar, Bassam Haddad, Ziad Abu-Rish, Peter Mandaville, Mouin Rabbani, Nadya Sbaiti, Adel Iskandar, Elliott Colla and Noura Erakat

04/28/2014 11:00 am

Location: Mason Hall, Room D3 GEORGE MASON UNIVERSITY
---
Studying, Researching, Teaching, Representing:
The Arab Uprisings Three Years On
Featuring
Lisa Hajjar: On Human Rights (UCSB)
Bassam Haddad: On Syria (GMU)
Ziad Abu-Rish: On Jordan (UCLA)
Peter Mandaville: On Islamists (GMU)
Mouin Rabbani: On Palestine (ASI)
Nadya Sbaiti: On Lebanon (Smith College)
Adel Iskandar: On The Media (Georgetown)
Elliott Colla: On Literature (Georgetown)
Noura Erakat: On Law (Temple)
Monday : : 28 April : : 3 - 5:30 PM
Mason Hall, Room D3
GEORGE MASON UNIVERSITY
KNOWLEDGE PRODUCTION ON THE MIDDLE EAST
How has the region been studied, researched, taught, and represented in the past three years?
What have we learned about the societies, regional/international relations, and political-economic dynamics of Arab countries?
What are the salient debates in the region?
Have counter-revolutionary forces triumphed? How did external intervention promote or hinder the uprisings?
Is it time to do away with the secular/Islamist binary?
Are we likely to see more equitable distribution of resources in the region?
Beyond politics, how have cultural elements/forms been affected, developed, and/or created?
Join us for some answers.
Light Fare and Refreshments Served
---
Lisa Hajjar is a professor of sociology at the University of California -- Santa Barbara. Her research and writing focus on law and legality, war and conflict, human rights, and torture. She is the author of Courting Conflict: The Israeli Military Court System in the West Bank and Gaza (University of California Press, 2005) and Torture: A Sociology of Violence and Human Rights (Routledge, 2012). In addition to being a Co-Editor at Jadaliyya, she serves on the editorial committees of Middle East Report and Journal of Palestine Studies. She is currently working on a book about anti-torture lawyering in the United States. In 2014-2015, she will be the Edward Said Chair of American Studies at the American University of Beirut.
Bassam Haddad is Director of the Middle East Studies Program and Associate Professor in the Department of Public and International Affairs at George Mason University, and is Visiting Professor at Georgetown University. He is the author of Business Networks in Syria: The Political Economy of Authoritarian Resilience (Stanford University Press, 2011). Bassam is currently editing a volume on Teaching the Middle East After the Arab Uprisings, a book manuscript on pedagogical and theoretical approaches. His most recent book is a co-edited volume with the title Dawn of the Arab Uprisings: End of an Old Order? (Pluto Press, 2012). Bassam serves as Founding Editor of the Arab Studies Journal a peer-reviewed research publication and is co-producer/director of the award-winning documentary film, About Baghdad, and director of a critically acclaimed film series on Arabs and Terrorism, based on extensive field research/interviews. More recently, he directed a film on Arab/Muslim immigrants in Europe, titled The "Other" Threat. Bassam is Co-Founder/Editor of Jadaliyya Ezine and serves on the Editorial Committee of Middle East Report. He is the Executive Director of the Arab Studies Institute, an umbrella for five organizations dealing with knowledge production on the Middle East, and Founding Editor of Tadween Publishing.
Ziad Abu-Rish is currently a doctoral candidate in the Department of History at the University of California Los Angeles (UCLA). He is co-editor ofThe Dawn of the Arab Uprisings: End of An Older Order? (2012), and author of "Protests, Regime Stability, and the History of Authoritarian State Formation in Jordan" in the forthcoming edited volume Beyond the Arab Spring: The Evolving Ruling Bargain in the Middle East (2014). Ziad serves as a senior editor of the Arab Studies Journal, and is a co-editor of Jadaliyya. In fall 2014, he will begin his position as assistant professor of Middle East history at Ohio University.
Peter Mandaville is a professor of government & politics and Co-Director of the Ali Vural Ak Center for Global Islamic Studies at George Mason University, where he also directs the graduate program in Middle East & Islamic Studies. He is the author of Islam & Politics (2nd edition, forthcoming 2014) and Reimagining the Ummah: Transnational Muslim Politics (2001) as well as co-editor of several volumes of essays in the fields of international relations, Islamic Studies, and comparative politics. He has also worked and consulted extensively in the non-profit, think tank, and government sectors. His research has been supported by the Carnegie Corporation of New York, the John D. and Catherine T. MacArthur Foundation, the Social Science Research Council, and the National Endowment for the Humanities.
Mouin Rabbani is a Senior Fellow with the Institute for Palestine Studies, Contributing Editor of Middle East Report and Policy Advisor with Al-Shabaka. He has published and commented widely on Palestinian affairs, the Arab-Israeli conflict and the contemporary Middle East. He was formerly a Senior Middle East Analyst with the International Crisis Group, Palestine Director of the Palestinian American Research Centre, and researcher with Al-Haq. He is Co-Editor of Jadaliyya Ezine.
Nadya Sbaiti is Assistant Professor of History at Smith and Mount Holyoke Colleges. She is co-editor of the Arab Studies Journal, and a co-founder of Jadaliyya.com.
Adel Iskandar is a scholar of Arab studies whose research focuses on media and communication. He is the author, coauthor, and editor of several works including Al-Jazeera: The Story of the Network that is Rattling Governments and Redefining Modern Journalism, Edward Said: A Legacy of Emancipation and Representation (University of California Press), and Mediating the Arab Uprisings (Tadween Publishing). Iskandar's work deals with media, identity and politics and has lectured extensively on these topics at universities worldwide. His most recent publication is the authored anthology Egypt In Flux: Essays on an Unfinished Revolution (AUC Press). Iskandar teaches at the Center for Contemporary Arab Studies and the Communication, Culture, and Technology program at Georgetown University in Washington, DC.
Noura Erakat is a human rights attorney and writer. She is currently a Freedman Teaching Fellow at Temple University, Beasley School of Law and is a member of the Legal Support Network for the Badil Center for Palestinian Refugee and Residency Rights. She has taught International Human Rights Law and the Middle East at Georgetown University since 2009. Most recently she served as Legal Counsel for a Congressional Subcommittee in the House of Representatives, chaired by Congressman Dennis J. Kucinich. She has helped to initiate and organize several national formations including Arab Women Arising for Justice (AMWAJ) and the U.S. Palestinian Community Network (USPCN). She is a board member of the Institute for Policy Studies; a Policy Advisor of Al-Shabaka; a founding member of the DC Palestinian Film and Arts Festival; and a contributor toIntLawGrrls. Noura has appeared on MSNBC's "Up With Chris Hayes," Fox's "The O' Reilly Factor," NBC's"Politically Incorrect," Democracy Now, and Al-JazeeraArabic and English. Her scholarly publications include: "Litigating the Arab-Israeli Conflict: The Politicization of U.S. Federal Courts" in the Berkeley Law Journal of Middle Eastern and Islamic Law, "U.S. vs. ICRC-Customary International Humanitarian Law and Universal Jurisdiction" in the Denver Journal of International Law & Policy, and "New Imminence in the Time of Obama: The Impact of Targeted Killings on the Law of Self-Defense" forthcoming in the Arizona Law Review. She is a Co-Editor of Jadaliyya.com. She will begin teaching in the New Century College at George Mason University in the Fall 2014.
---